Information:

A Mythological RoundTable ® Group (MRT) is a gathering of people drawn together by a deep and abiding interest in all things mythological. Much like the Round Table of yore, it is a place where individual and community come together - a place to play, plan, create, partake in ritual, and share tales of our own quests with companions well met. But JCF Mythological RoundTable ® Groups do more than just enrich the individual; they also offer the opportunity to introduce the work of Joseph Campbell to the wider community, carrying his vision off the page and out into the real world.


---
After Christmas/After New Years Party for MRT of Northeast Georgia
Round table member, Doris Benson, hosted a beautiful party for round table members in her chalet home near Clarkesville on January 6, 2013 to wrap up the holiday season and to kick off the new year with festive spirits and renewed hope. There was plenty of Doris's delicious Shwabian food , lots of chanpagne, and lots of lively conversation.The homemade German Christmas cookies were really authentic Hansel and Gretel delectables. Thanks for all you did.
---
This is a great year for the Northeast Georgia Mythological RoundTable ® Group. First, in April and May several members attended the first display--ever outside of Switzerland-- of the famous mandalas painted by Jung's patients. The exhibit was at Oglethorpe University in Atlanta. In addition to the art exhibit, there were several lectures by noted Jungians and a class on the Tarot symbolism, taught by Lynda Martin. The class was spread over eight evenings with one class per week.
This May several group members are attending the ultimate mythological experience-- Wagner's "Ring" cycle in HD live from the Metropolitan Opera in a local participating theater. Actually, these are encore performances of the initial HD telecasts that were shown over the course of two years as each of the dramas was staged at the Met, but this month for the first time, the entire cycle can be seen in its entirety. The production is by Robert Lepage of the Cirque de Soleil, and in all four dramas a ninety-thousand pound on-stage machine attempts to realize Wagner's impossible visual demands.
---
CHRISTMAS IN AVALON, GEORGIA, THAT IS
The North Georgia Mythological RoundTable ® Group experienced a storybook Christmas event on December 16th at RoundTable member, Renie Chandler's beautiful bed and breakfast,"Renstone," on Lake Hartwell in the North Georgia foothills. Serendipitously, the small community in which "Renstone" is located, is called Avalon, and the fruits of the "Blesssed Isle" were abundantly evident as Renie had outdone herself with a festive presentation of food and drink that would have widened the eyes of even the most jaded modern-day Scrooge. Bone-chilled guests were welcomed with champagne, wine, hot drinks, and an oversized punchbowl full of not-your-granny's variety of homemade eggnog. And when dinner was served,one could only wonder if there was indeed a Graal of unlimited abundance nearby. With at least five full-sized Christmas trees visible from the dining area, and with all the other wonderful decorations, and the excellent company of fellow myth revellers it was a magical evening in a magical,and magically named place--Avalon.
---
North Georgia RoundTable® Member Honored for Lifetime work for
Peace, Social Justice, and the Environment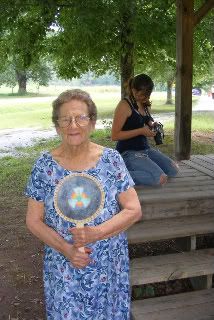 ADELE KUSHNER
This is the first of a series of portraits of our round table members.
"THE PRIVILEGE OF A LIFETIME IS BEING WHO YOU ARE"------Joseph Campbell
North Georgia Mthological RoundTable® member, Adel Kushner, was honored by the community at the Sautee-Nacoochee Community Center near Helen, Georgia, on August 8, 2010, for her lifetime commitment and service to social justice, to her ceaseless work for world peace, and for her commitment to preserving the environment. Because she has been a life-long advocate for peace and non-violence, the event to honor her was scheduled to coincide with the sixty-fifth anniversary of the atomic bombings of Hiroshima and Nagasaki. During the afternoon, participants planted a "peace pole" inscribed with the word "peace" in ten different languages next to the "Tree of Peace" which has long stood on the grounds of the Sautee Nacoochee Community Center. While in her early sixties, Adele spent two years walking across much of Europe and North America for peace. She is a founding member of Action for Clean Environment, a member of the NE Georgia Peace Council, and is on the board for Nuclear Watch South. In addition to working for these causes, and being a member of the North Georgia MythologicalRoundTable® group, the indefatigable eighty-five year old is an artist, working in water colors and mosaics, and an author of a book, Memoirs. In addition, she finds time to be a mother and grandmother.